Flat Pack Toilet Cubicles
We manufacture and keep stock of Flat Pack Cubicle Range. They are is available on next-day delivery if ordered before 10am. This range is off the shelf. It's ideal for temporary or light usage environments.
​
Before manufacture takes place we provide you with a Drawing for Approval. This to ensures all the details are correct and reduces the risk of error. All the required fitments will be delivered with the panels to ensure the installation can be completed in one visit. A joiner or caretaker team will easily be able to install these cubicles. We are available over the phone if installation advice is needed and we have installation guides.
Advantages of the Flat Pack System
Economical and great value

Cost-effective

Stable and strong

Flat Pack Solution

Ideal for temporary or light usage requirement

Delivered complete with all necessary fittings

Ideal for jobs with a very tight deadline

Mix panel colours to provide contrast

Fully water and rust-proof SAA fittings
Construction Sites

Light usage toilet cubicle areas

Temporary cubicles

Taste booths

Office toilets

Reading booths

Clothing store changing rooms

Any dry area requiring a quick cubicle solution
Low Foot Fall or Temporary Cubicles
Heavy Duty Satin Anodised Aluminium
Order before 10am for next day delivery
18mm Melamine Faced Chipboard (MFC)
10 years on cubicle fittings
Possible Colour Combinations
Door: Light Grey
Pils & Parts: White
Door: Sand
Pils & Parts: Light Grey
Door: Lavender
Pils & Parts: Light Grey
Door: White
Pils & Parts: Blue
Flat Pack Range Colours Options
Additional Door Colours (extra cost)
Doors & Partition Dimensions
Partition wall delivered as two separate 900 x 1500mm sections
Drawing of Space Each Cubicle Provides
L Shaped Flat Pack Cubicle
Enclosed / Wall to Wall Flat Pack Cubicle
Typical L Shaped Cubicle Pack consists of:
1no. 650mm x 1800mm solid one piece door panel

2no. 150mm x 1800mm Pilasters (300mm pilasters are available if required)

2no. 900mm x 1500mm sectional wall panels

1no. 1500mm long H channel cubicle wall jointing strip (used to create a 1800mm H x 1500mm L wall)

2no. 1800mm loose edging strips to cover any site cut edges

Fitments:
1no. Slide Bolt

1no. Foot
8no. Wall / panel brackets for the partition walls
3no. or 6no. Wall / panel brackets for the pilasters. (Total depends on layout)

2no. Non Finger trap Hinges

Length of headrail to suit

All fittings guaranteed for 10 years
Panel Material
Melamine Faced MDF
The Flat Pack Range System is made from 18mm MFC panels. The come complete with a 2mm PVC knock resistant edge to every edge on the panel. These qualities provide a simple low maintenance cubicle system.
​
MFC is a chipboard core coated with decorative papers impregnated with thermosetting resins on both sides of the board. Because of this MFC is suitable for dry area use only.
​
Cubicle Fittings
Heavy Duty Satin Anodised Aluminium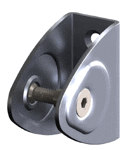 Like what you see........Contact us!